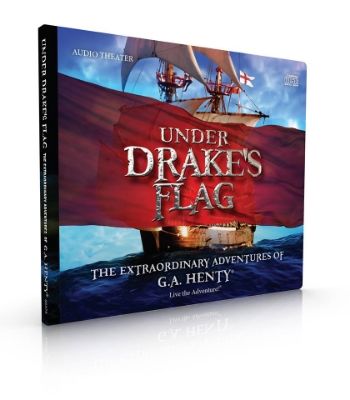 We live in Boondock-ville. Our grocery days are practically all day affairs because of the long drives to and from any and all stores. Our church is an hour away. Getting anywhere at all involves a long, longer or
WHY AREN'T WE THERE YET?!?!
drive in the car. One of the ways those long car rides become more bearable for four children and their Mama is by making sure I always have an arsenal of good cd's to listen to. Music is good. Audiobooks are better. Dramatized Audio Programs are, in my childrens' minds, the creme de la creme. The best of the best. The most special of all. And I have a new (to us) one to share with you today!
Under Drake's Flag: The Extraordinary Adventures of G.A.Henty
is a dramatized audio production put out by
Heirloom Audio Productions
. It is a tale of the Spanish Main under the leadership of Sir Francis Drake and the boys who came to serve there. There is action, suspense, and intrigue. There are shark attacks, soldier attacks, land attacks and sea attacks. There is a mother's sacrificial love and a princess who keeps popping up when least expected, there are unexpected alliances, moments of cruelty and moments of kindness. And, always, courage and determination from the boys who must grow to be men in the situations they find themselves.
Heirloom Audio Productions
uses top notch musical scores and art sound design by the some of the same talented individuals behind Lamplighter Theatre, the Chronicles of Narnia Radio Theatre production, Adventures in Odyssey and the Focus on the Family Radio Theatre) as well as a phenomenal acting cast including Brian Blessed- the Long John Silver of Return to Treasure Island, the Lord Loxley of Robin Hood and the Jean Valjean of Les Misérables. (As an aside- is there anything more fun than listening to a bunch of actors with a British accent?) The whole production was outstanding. As we drove down the highway, the waves crashing and the water bubbling made it sound like we were sailing along in a ship of our own. (It was actually a very odd feeling to be driving in a sea!)
Audiobooks bring the stories of history to life for both children and adults. No one needs an excuse to enjoy an audio production... I enjoy them and I haven't yet met a child who didn't enjoy them! I highly recommend audiobooks as we love them so...but especially for children who may be slower readers or have a hard time reading more mature volumes. The goal, for these children especially, is to show that stories can be given life and how exciting it can be to relive them. Once that is established, these slower readers will be given a great impetus to keep chugging along as they work to hone their reading skills. Because they will know the great wonders a book can hold and how great a feeling it will be to experience it for themselves! For these children especially, their minds are capable of understanding the stories but their reading skills haven't yet grown that skilled. Audio-books are great for them.
Under Drakes Flag
is an entertaining audio production for the WHOLE family! On their website they claim it can be for 6 and up but I can attest to the fact that younger children can be just as enamored with it. I have a four year old and five year old who liked it an awful lot too. We've listened to our copy several times already and keep it in the car for all of our sea-faring whims.
Under Drakes Flag
is a two CD set with over two hours of entertainment and sells for $29.95. Within the set is a small study guide and copy of Sir Francis Drakes' prayer. We were also given a downloadable copy of a much more in-depth study guide which included listening points to listen out for, vocabulary words to define and thinking further questions to delve into discussion. With the purchase you are given four bonus gifts as well! A more affordable MP3 download is available for just $20 and includes some bonuses as well. Other CD packages are available as well.
Check them out
.
And guess what? They are doing it again with a new G.A.Henty adventure this fall!
In Freedom's Cause : the Real Story of Wallance and Bruce
.
SUPER EXCITING.