Even though I have a blog and utilize the computer in many ways for our home learning (getting books from the library, watching art videos on youtube, borrowing inspiration/information from other blogs, expanding our learning in many countless ways...) I still am pretty naive at the vast universe of available resources that is the world wide web. There is so much cool stuff on the internet, ready at the mere click of a button, to expand and round out education, experiences and opportunities for learning.. I am just now figuring this out, as I participate on the Schoolhouse Review Crew this year. One of these cool spots online is
Science4Us.com
. I found out about it when I was given a chance to review the
Science4Us.com Online Subscription
.
Science4Us.com is a web-based resource that is, as the name suggests, all things science! Geared toward the very young students in your classroom or homeschool, it provides interesting and entertaining science education and activities for kindergarteners through second grade. And let me tell you, the site is child-friendly enough to be easily navigated by the children without help...(Warning!!! They WILL want to push all the buttons! ;-) )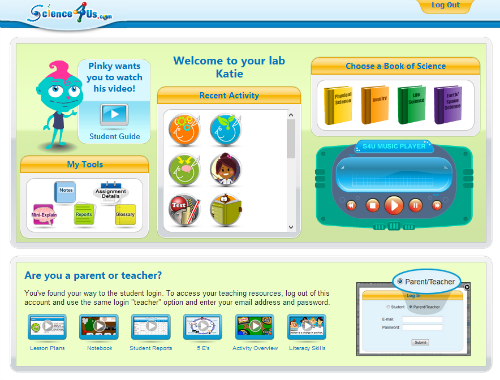 The site covers four different scientific categories: Life Science, Earth Science/Space, Physical Science and Inquiries. While the first three are rather self-explanatory, the more elusive "Inquiry" covers the scientific tools to measure, observe, record and communicate. Within each category, there are three main actions that the student can choose from to do. EXPLAIN, EXPLORE, ENGAGE. The first is a virtual lesson for the child. The latter are fun activities that reinforce the topic chosen.
Other than the "Three E's" there are about 9 other fun activities to go along with each lesson within the category. Some of these fun activities incorporate reading and math into the learning. "Sillybulls" separates science vocabulary into syllables as the child tries to put them in order to make the proper word. There are alphabetizing games, matching games, graphing, quizzes and more! There is even an online notebook which stores the child's observations and artwork. There are plenty of worksheets, experiments and activities you may choose to print as well. Every activity that the child participates in online is saved in a report which can be Evaluated later on (Another "E"!) by the teacher/homeschool parent, allowing the adult to see just where the child is excelling/having trouble. These reports are automated (and printable!) for homeschooling portfolios. (Now THAT is cool.)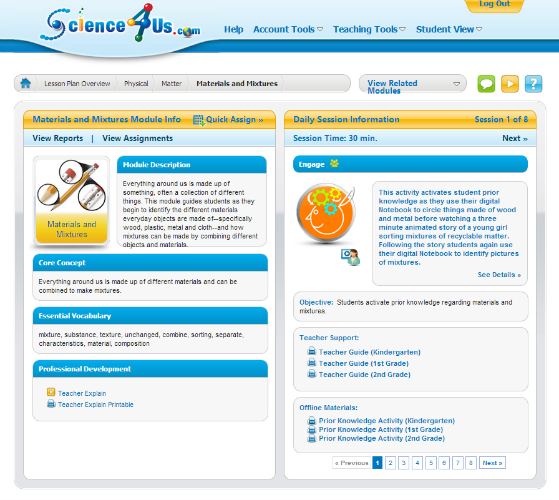 In addition to the student reports, you (as the teacher) are given access to all the lesson plans (how long they will take, what to expect, the activities and vocabulary and other details), teaching strategies, assignments. There are plenty of video support and virtual tours to help you navigate and figure out how to best use the site.
I was disappointed with the program in only one regard... when studying Earth Science, their 'history of the world' is skewed to an evolutionary slant and you get the whole "millions of years" jargon as is typical with that crowd. If you, like us, are Creationists, you'll be disappointed too. I avoided that area of the website...not because my children aren't very familiar with the theory of evolution-we talk about it all the time (and why its' wrong!) but because it is presented as fact. That's the only thing I would change.
The program can be purchased on a monthly basis for $7.95 per child for each month at
Science4Us.com