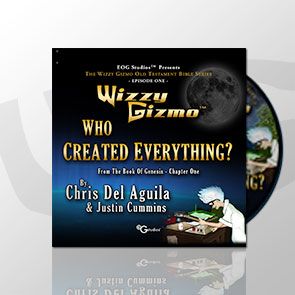 We are a big audio-book family. My kids will stop whatever they are doing and stare blankly at the wall when I put in a good audio book for them to listen to. You know those zoned out zombie children who stare at the television for hours? My kids are
THOSE
kids, except with audio books.
Audio drama
's captivate them even more! These can be great to settle kids down at bedtime or quiet time in the afternoons, to listen to while they are doing projects or chores or, as we often do, for listening during car rides. If your children are anything like mine, I am guessing they would love
Wizzy Gizmo
and their
Audio Drama One: Who Created Everything?
WHO IS WIZZY GIZMO?
Wizzy Gizmo is a company dedicated to helping children, parents and families to fulfill the Deuteronomy mandate to
"...love the Lord your God with all your heart and with all your soul and with all your might. These words, which I am commanding you today, shall be on your heart. You shall teach them diligently to your sons and shall talk of them when you sit in your house and when you walk by the way and when you lie down and when you rise up."
They do this by offering wholesome, biblical and entertaining teaching tools for children to listen to while sitting, walking, lying down, rising up or whenever/wherever the fancy strikes.
Wizzy Gizmo also happens to be one of the main character's in the audio drama- a 'mad' scientist, professor and inventor who creates a magnificent machine called Gizmovision which can bring to life any book placed upon it. Of course, he and the neighborhood children choose the Bible as the book and the very moment of Creation as the time to explore on their first Gizmovision test drive.
Through the use of professional sound effects, entertaining songs and some downright hilarious characters, they explore what it was like
In the Beginning
. There is just the right mix of
profound
and
silly
to leave kids begging for more (or in our case~ AGAIN! AGAIN!). My kids still quote a particularly hilarious moment every now and again which gets everyone around them giggling all over again.
Along with this audiobook, Wizzy Gizmo offers books like
Who Created Everything?
(Story of Creation and the paperback book version of the audio drama ) and
In His Image
(Adam and Eve) as well as a
Fast Track Bible Pack: New Testament Series
of Bible flashcards which summarize all the books of the New Testament along with key passages and doctrines. All of these resources are geared for children from 4-12 years old but may be enjoyed by the whole family. I must say, I was busting up laughing as often as the children were as we listened to the Who Created Everything?
Wizzy Gizmo's
Audio Drama One: Who Created Everything
is 36 minutes long with 24 extra minutes of additional song and soundtrack material. The cost is $14.99 and if you'd like to hear audio snippets to sample what you will hear on the cd's- you can check them out
here
.

(
PS.
As I type this review, my kids have been tucked into bed but not quite settled down to quiet mode yet and what do I hear? My Judahbear saying "Wizzy Gizmo! Wizzy Gizmo!"
Now isn't that just too perfect?!?
)