A new day...a new review!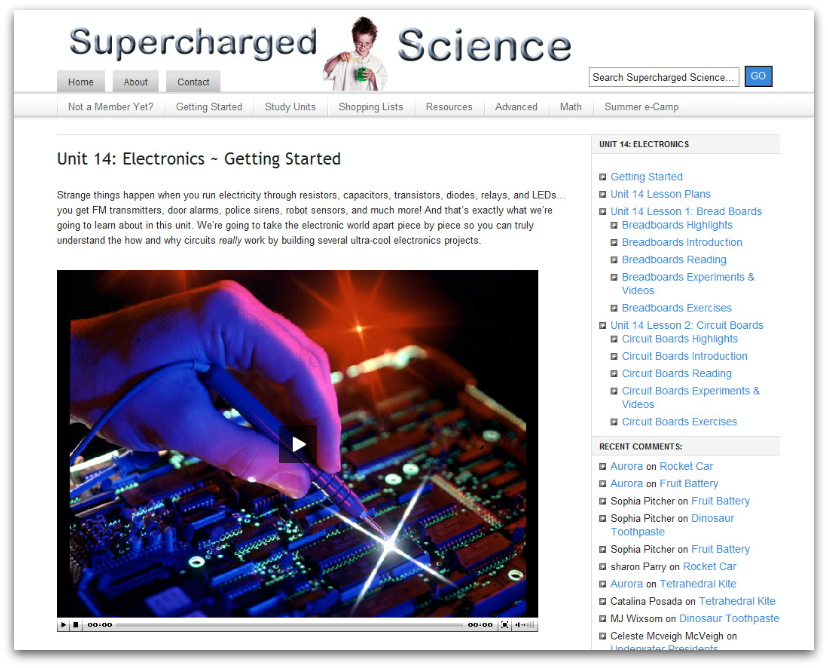 Do you love science but have a hard time teaching it? Do you wish you had more TIME to do the fun stuff~ like experiments? If so, this review is for you! I want to tell you about
Supercharged Science
and their
e-Science Learning Program
.
This video-based program is a complete science program, useful for all grades (K-12) and covers hundreds of topics and subtopics...anything you can possibly imagine that can be learned, can be learned here. This is not an animated, sing-songy type of science
reinforcement of knowledge
(like some of the other science programs online) which try to make science fun through cartoons, games and songs. Rather, this science program is made fun and exciting by the realities of scientific truth, through experimentation and through the simple, yet enthusiastic teaching and explanations of Aurora Lipper, the lady behind the e-Science program. She doesn't talk down to her students but draws them up. She doesn't need cartoons to make science fun and exciting. It just IS.
You have to check out the list of units she covers and the topics within each unit. It is astounding how much information is within this program.
Each topic is covered by a series of videos... video lessons on scientific reasoning, theories and truths with many accompanying video experiments and projects. Aurora realizes that there are four different types of learners~ those who learn through seeing, hearing, reading and DOING and she has done a brilliant job of incorporating all these learning styles in each of her lessons and topics.
We have been learning about flying creatures in science this year, so the very first experiment we were excited to try was dissecting an owl pellet...which happened to be an experiment within Unit 18: Biology 1. Naturally, the children loved that. I bought owl pellets not realizing when I bought them that they were synthetic owl pellets. They've been scouring our woods and barn for REAL owl pellets ever since!
Then, in History, we began studying Isaac Newton and his contributions to society and lo, and behold... there were plenty of experiments within Unit 0: Overview about Newton's 1st, 2nd, and 3rd Laws of Motion. (Along with many other laws.) Isn't it fun when Science, History, English all connect together without any extra effort on our parts? I love that.
Though I already have a science program and thus, used this program to supplement the program we already use, this program can stand on its' own two feet and very easily be used as a sole science curriculum.
The Supercharged Science e-Science Learning program
K-8 level plan is $37.00 per month and the K-12 level plan is $57.00 per month
. I realize that this is a nice chunk of change, so I am happy to let you know that Aurora has given you the opportunity to try out the K-8 level program for
an entire month for just $1.00
.
And if you hesitate to do that but still wish to check it out further,
here is a link to a few TOTALLY free sample experiments
.