Have you ever heard of Apologia? Chances are, if you are a homeschooler or know a homeschooler you have!
Apologia Educational Ministries
made a real name for themselves with their incredible Biblically-based science curriculum (which we enjoy using ourselves!) but have expanded their offerings to include a Biblical Worldview Curriculum called the "
What We Believe Series
". This series has four volumes:
Vol. 1 Who is God (And Can I Really Know Him?)
Vol. 2 Who Am I (And What Am I Doing Here?)
Vol. 3 Who is My Neighbor (And Why Does He Need Me?)
Vol. 4 What On Earth Can I Do
I was able to review (lucky me!) the fourth book in the volume:
What On Earth Can I Do?
along with the accompanying
What On Earth Can I Do Notebooking Journal
,
What on Earth Can I Do? Junior Notebooking Journal
and the
What on Earth Can I Do? Coloring Book
. What an opportunity!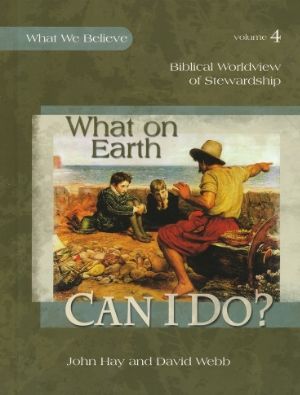 What on Earth Can I Do?
is a book on the biblical worldview of stewardship because the Christian faith isn't just about knowing something but also about
doing something
with that knowledge. God has given us all gifts and opportunities throughout life to
use
those gifts for His glory. This book has provided a way for children to understand and heed these truths in a way that is both entertaining and engaging.
The 294-page book has only eight lessons, each of which included an introduction, objectives, thought-provoking questions for the student and later~ more in-depth discussion questions, memory verses, vocabulary words you need to know, specific godly character traits that go along with the lesson, a prayer, a parable of Jesus correlating to the lesson along with many integrated learning articles that further relate to the topic by using short stories, biographies, biblical stories and other forms of information relating to the topic through the different areas of art, music, math, history, science, etc.
With this vast amount of information, it is impossible to finish a lesson in a day. The childs' attention span and level of interest can dictate how much time each lesson can take and how long it will take you to complete the book. The lessons can either be read aloud by a parent or worked on independently by the student- though with the latter you will miss some great discussion opportunities! It could be used for Bible learning or even as a family devotional each evening.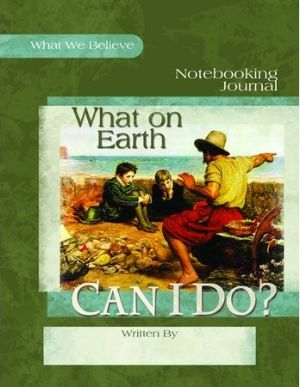 The
Notebooking Journal
and
Junior Notebooking Journal
are used to engage the child(ren) in playful and creative ways while they internalize the concepts brought out in the book. There are plenty of coloring pages, crossword puzzles, mini-books to assemble and copywork pages to occupy the hands while the lesson is being read. Both journals cover the same information but the junior version is geared for younger grades and require less writing. Both have crossword puzzles, but the younger version has 10 words and the older version has 20...that sort of thing. The older version also has review questions to be answered and more in-depth writing opportunities while the junior version has more fill-in-the-blanks. Another great feature of the Notebooking Journals are the "Find Out More" pages that direct you to applicable songs, books, videos and activities you can seek out that relate to the topic at hand. Corynn was perfectly suited for the first book and Andrew was perfectly suited for the Junior Notebooking Journal. I would read during lunch time (time for biblical studies in the Newman house) and after they snarfed their food as they always do (learning requires brain food!) they would work in their notebooks as I read.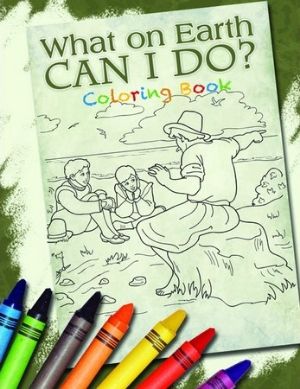 The additional
coloring book
is meant for the smallest of children to be able to participate in the lesson as well and both Adele' and Judah were chomping at the bit to crack that sucker open.
The books are geared for children in grades 1st through 6th and there are certainly many opportunities to engage small children. Even so, I found the lessons to be so informative and all-encompassing that I feel, personally, an older student would benefit more fully from each lesson than a younger student.
Each book is printed with the finest top-notch quality. The book is non-consumable which means you can use it throughout your homeschooling career and has a rugged but beautiful hard cover and the picture quality within the pages of the book are beautiful. The Notebooking journals are spiral-bound making them lay flat, making writing in them very pleasant. The coloring book can be reproduced easily on a copy machine for multiple children or colored right in. Here is a run-down of the prices for these products.
Hardback book...$39.00
Notebooking journal...$24.00
Junior Notebooking Journal...$24.00
Coloring book...$8.00