Those who don't know history are destined to repeat it.
~ Edmund Burke
History is by far my favorite subject to teach (and to re-learn!). History has such a potential to come alive~ much moreso than, say, grammar or arithmetic. So I was SUPER excited to be able to review The
Digital Heroes & Heroines of the Past: American History Curriculum
put out by
Golden Prairie Press
this year with the
Schoolhouse Review Crew
. This is a full year (30 week) curriculum designed for students from 1st to 6th grades to work on, one lesson a day~ five days a week . There is both a younger version for the youngest students and a more in-depth version for the older ones. Both versions cover from 1000AD to present day, beginning with the discovery of North America by Leif Erikson.
Deciding what sources you use to teach it is a job that must be taken with care because history can be written and interpreted in as many different ways as there are writers/interpreters of history. And as with all things, the worldview shapes the interpretation. It has always been important for me to approach history with God at the center. It is, after all, as C.S.Lewis once said
History is a story written by the finger of God

.
For this reason, above all, I enjoy this curriculum. The author, Amy Puetz, affirms Christ in all of History and throughout this curriculum by writing from a Christian worldview and by accentuating his hand. When she writes of heroes and heroines who we ought to be familiar with, she uses those individuals who further God's kingdom and demand our admiration. She does not elevate those individuals who brought godlessness to society as some history curriculums do. This is what I most admire about the package and why I can absolutely, without a doubt, encourage those looking for a great christian worldview history program to LOOK HERE.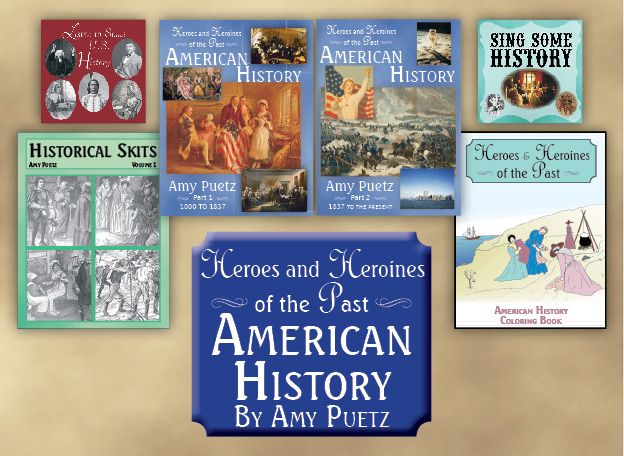 As part of the curriculum package, you receive three ebooks and three audio-downloads. These include:
Heroes and Heroines of the Past: American History Part 1 ebook
Heroes and Heroines of the Past: American History Part 2 ebook
Historical Skits ebook : An entire book of 19 different skits your children can do!
Additional Materials Downloads: This includes printable timelines, instructions and entertaining videos, color artwork, coloring pages, and more.
Sing Some History CD: which includes 20 different music pieces (both instrumental and choral) mentioned in the book. Like~ All the Pretty Little Horses, Lavender's Blue, Liberty Song, Chester, Johnny has Gone for a Soldier, Yankee Doodle, Hail Columbia, Tippecanoe and Tyler Too, Oh! Susanna, Missionary Farewell, Henry Clay, Sweet Betsy from Pike, Dixie, Bonny Blue Flag, Battle Hymn of the Republic, When Johnny Comes Marching Home, I've Been Working on the Railroad, She'll be Comin' 'Round the Mountain, Pop Goes the Weasel, and Uncle Sam's Rich Enough to Give Us All a Farm.
Listen to Some U.S. History MP3 CD
An audio collection of 20 original speeches, poems, sermons, and documents that are mentioned in the book. Includes: Mayflower Compact, Model of Christian Charity, Sinners in the Hands of an Angry God, On the Method of Grace, To King George on the Repeal of the Stamp Act, To My Dear and Loving Husband,Give Me Liberty or Give Me Death, The Midnight Ride of Paul Revere, Declaration of Independence, The Constitution, Bill of Rights, My Escape from Slavery, Inaugural Address, The Emancipation Proclamation, Gettysburg Address, Excerpt from A Diary from Dixie, Speeches by Red Cloud, The Atlanta Exposition Address, Christian Citizenship, and Sergeant York.
With students that span the age spectrum, I used the version for older grades. Andrew, in 2nd grade was perfectly capable of understanding and participating in the older version, as we are very accustomed to ignoring 'age recommendations' when reading aloud. ;-) And the littles had plenty of opportunity to enjoy the lessons through the songs, crafts, coloring pages, recipes, and games that go along with each lesson. (But especially the recipes! hehehe) There are coloring pages to go along with each daily lesson which I often printed out for the children to do while listening to the lesson and/or the audio files. There were Bible verses for memorization and the opportunity to listen to the actual historical documents in full from the Listen to Some History MP3. Because they are audio files- they can be played over and over and memorized too! Personally, I think everyone would do well to memorize some of these most important documents (myself included!).
The
whole digital package is $98.99
and can be saved to use and re-use over and over again. There is also an option to
buy a physical version of the curriculum
(which I would have preferred as I like tangible books, myself.)
If you haven't found a history program that you love, I would highly encourage you check this one out.