"Whenever we learn more about science, we learn more about our Creator....God!"
This is the mantra of Ben Roy, the enthusiastic host of the
Go Science DVD
series put out by the company
Library and Educational Services
. And how true it is!
The
Go Science DVD series
includes seven volumes:
Volume 1: Sound, Gravity, Space
Volume 2: Life Science, Weather
Volume 3: Air
Volume 4: Motion, Friction, Electricity, Light
Volume 5: States of Matter, Water
Volume 6: Chemistry
Volume 7: Engineering, Design, Flight
I was given the opportunity to review two of them: Volume 6: Chemistry and Volume 7: Engineering, Design, Flight.
This series of science DVD's is not a curriculum or lecture series. Rather, it is an hours' worth of many different science experiments, projects and demonstrations given by Mr. Roy and his many helpers that encourage the viewer to become engaged in the greatness of the physical and chemical world around them. If you tend to keep your science curriculum clean and tidy, not participating in many dirty experiments, these DVD's are the perfect way for your student to see the effects and change of each experiment without the actual mess. But I can pretty much guarantee that your students, after watching the demonstration, will want to duplicate them. But you know what? They can! Because each experiment is short and sweet and uses things that you almost always have right on hand anyway! (And without too much mess, as you can well gauge by watching the experiment yourself! Unless, of course, it is the elephant toothpaste!) Go Science makes lab science accessible to all students and shows just how simple and easy science experiments can be!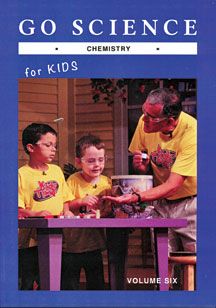 The list of experiments in Volume Six: Chemistry are:
~ Milk and Food Coloring
~ elephant toothpaste
~ stains
~ staying dry-diapers
~ lava lamp
~ instant snow
~ silly slime
~ hydrogen bubbles
~ grain elevator
~ water generator
~ Mentos fountain
The list of experiments in Volume Seven: Engineering, Design, Flight are:
~ How much Will It Hold?
~ Leaning Tower of Lyra
~ Nail Balance
~ Trebuchet
~ Centrifuge
~ Walking on Eggs
~ Bed of nails
~ rocket balloons
~ vinegar rocket
~ toilet paper on paint rollers
~ film canister rocket
We have plans to go through all the experiments by doing an experiment or two throughout the summer~ (the kidlets made that plan, by the way!) and everyone has their own favorites picked out to do *first*.
We did several of the experiments~ including the milk and food coloring experiment which teaches not only surface tension but also primary/secondary colors in SUCH a cool way!
This series is unabashedly Christian, with Mr. Roy saying the above mantra at the close of each experiment. He also directs the children to make some correlations to real life faith issues. In the experiment of toilet paper of paint rolls to demonstrate inertia...to tug very fast rips off a tiny bit of the toilet paper. To tug gently will ease out lots and lots and lots of paper. He related that to trying to tell people about Christ. If you force Christianity upon people, you will break off relationships and be no further ahead. If you gently coax, the relationship will stay intact and you can get much further.
Each of the seven volumes in the DVD series is priced at
$8.97
(reg. list price $14.97) and are geared for children from ages 4-12.
(I have to tell you, too, that while I was poking around the Library and Educational Services website, I saw many familiar titles of books and DVD's and all for great prices! Adventures in Odyssey, Focus on the Family, The Jungle Doctor, Boxcar Children, Drive Through History, tons of amazing biographies. They have the best prices on the internet for some audiobooks and radio dramas by Focus on the Family like Narnia, Oliver Twist, The Secret Garden, The Legend of Squanto, etc. I know because I always compare prices before buying and these have been on my 'want/need/will buy someday' list for a while. I bought the audio theatre cd's of Oliver Twist and Under Drake's Flag by G.A.Henty for a few bucks cheaper than ANYWHERE I found on the internet...and tucked them aside for a happy Christmas!)