Last week I challenged you to find some
wind
and capture it. Did ya? If not, no worries-I still want to see your favorite photo of the week!
Here are mine:

I'll be honest with you, I have been having a HARD time coming up with challenges each week, especially ones that I am excited about. So when I saw
this
on Pinterest i knew it would be *just right* if I scratched the "day" and made them instead "weekly" challenges. I could have just written down the list, but golly
she
made such a fabulous graphic I had to admire it. So here they are for reference. I am super excited about the challenges now...amazing what a bit of objectivity can do for a person.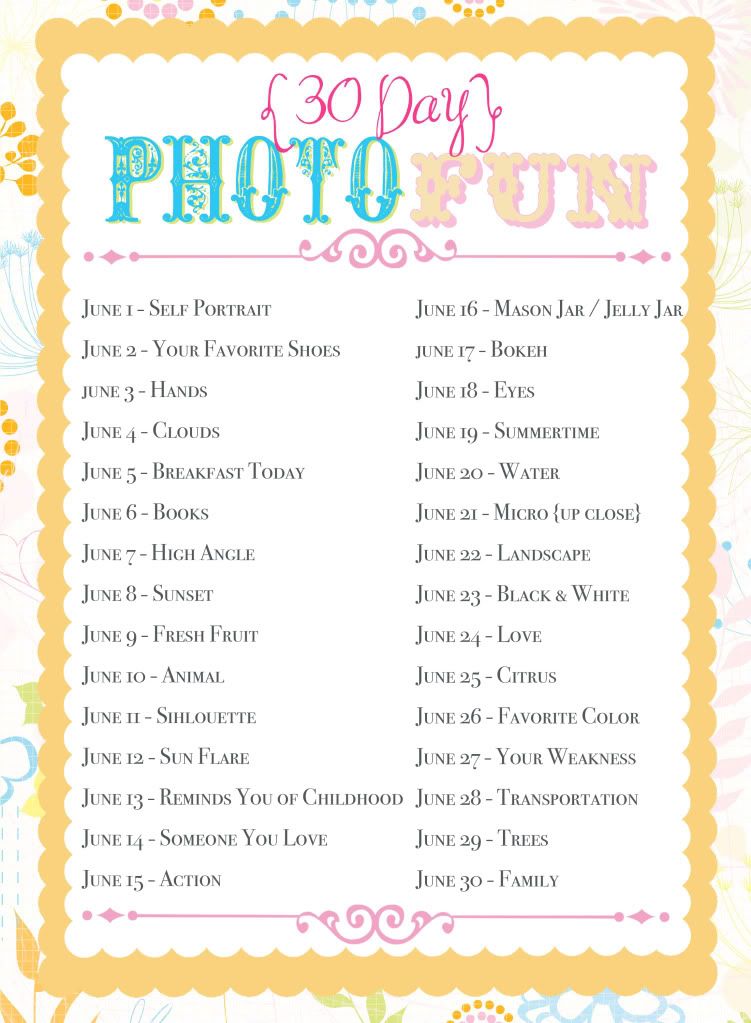 So for the record: if you are up to it~ this coming weeks challenge will be
SELF PORTRAIT
. Of course, any favorite photo would be a welcome contribution. That goes without saying.
See you then!
*** I can't believe it but I forgot to post my favorites from last week...AGAIN! Boy, I need to get my act together! ***
Here are my favorites of last week:
Winner #1: Barb from
My Journey~For His Glory
I for one think it is really amazing how this internet thing allows me to live vicariously through so many different peoples' lives. Not only was this a wonderfully interesting shot of a culture far different than mine, but it was well made: the subject was slightly off center, the rice was caught mid-throw, the subject was crisp and clear and the exposure was perfect (which is challenging to do with sunhats/shade among bright light.) Not to mention how difficult it can be to take a picture of someone we don't know. Kudos to Barb (it was her FIRST contribution too! Let's hope we see more of her!)
Winner #2: Dana from
A NibNabit Life
This photograph is really well done as well. I love it for its artistic flare. The rule of thirds was implemented perfectly and I love the hard iron contrasting with the tender plant. It is a job well done when a photograph speaks to you, and this one did to me.
Well done everyone!